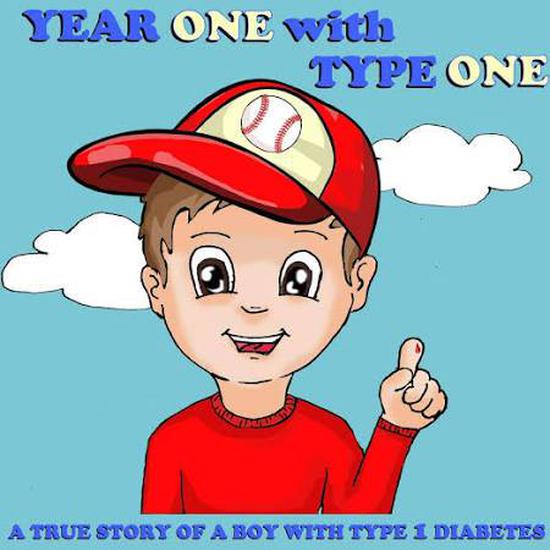 Year One with Type One: A True Story of a Boy with Type 1 Diabetes (Paperback Book)
Regular price
£9.99
/
Tax included.
---
In stock, ready to ship

Inventory on the way
How does a child respond to a sudden diagnosis of type 1 diabetes? Through Andrew's eyes, you'll get a first hand look at the symptoms, diagnosis, and everyday routine of type one. At 4 years old, he manages his new responsibility while still managing to enjoy everything a kid his age should. The fun rhyme and playful scenes make this book accessible, not only to diagnosed children, but to the family members, friends, and classmates looking for an inside look into T1D.
From the Author
When our son was diagnosed with type 1 diabetes, he, my wife, and I were inundated with information. Between the instructions, the calculations, the medications, the device, and most of all, the reality of our new responsibility, there was a lot to take in.It was important to my wife and I to make sure that Andrew knew as much about his condition as we could reasonably expect of a 4 year old. We also wanted to keep family members, friends, and classmates as informed as possible as well.
While Year One with Type One won't have all the answers, it can hopefully shed enough light on some of the complexities to tease some fruitful discussions around T1D. The rhyming words, colorful scenes, and playful nature of the book should make the book accessible to kids and adults of all ages. Most of all, I hope that families who read this can find comfort in reading another families' experience, find pride in the management of their own situation, and recognize that, while challenging, managing type 1 diabetes is well within our ability.
About the Author
Are you beaming with pride over your children's accomplishments?Whether it's watching them fill a room with laughter, display empathy, or overcome obstacles, Mike Suarez is perpetually impressed with his kids on a daily basis. He uses their personal experiences as inspiration for his writing. This was especially true in his debut book, Year One with Type One, inspired by his son's remarkable attitude regarding his type 1 diabetes. Authoring a children's book in rhyme is hardly a typical goal for a Software Engineer. Yet for Mike, it became a goal and a passion. As a native New Yorker, currently residing in the suburbs of Boston, Mike also enjoys watching sports and spending time with his family.
Reviews
"Year One with Type One provides a medically accurate portrayal of the T1D diagnosis journey in a format that is engaging and fun for kids and families. I highly recommend this book to help kids and caregivers ease into the 'new normal' of life with diabetes." - Katharine Garvey MD MPH, Director, Diabetes Program, Boston Children's Hospital
"The book tells the story of a young boy named Andrew being ill, going to the hospital and getting diagnosed, and returning home to his new life with type 1 diabetes. The sentences rhyme, which kids will find fun, and the content includes the latest in diabetes care technology, including CGMs with remote monitoring. Andrew's experience will help other young kids understand what it means to have type 1 and that diabetes won't stop them from being a kid. Recommended for young children recently diagnosed." - Children with Diabetes (childrenwithdiabetes.com)
"Author Mike Suarez explains a big word in easier to understand language. He soothes parents' potential worries, too - Andrew's parents wonder if they allowed their son too many sweets, but the medical staff quickly lets them know that Type 1 diabetes is nobody's fault: Andrew's pancreas has stopped producing insulin, but there are ways to live a happy, healthy, active life. The cartoony artwork is kid-friendly and helps mitigate some of the scary feelings a diagnosis may come with."- Rosemary Kiladitis of Mom Read It (momreadit.wordpress.com)
"The author's approach to the topic is simple, straightforward, and personal, and gives readers insights on how to cope with Type 1 diabetes. Many parents and children will be able to relate to the story. The way Andrew deals with the shots and his attitude towards the disease are inspiring and will give hope to readers who have been diagnosed with Type 1 diabetes. The illustrations are wonderful and they make the concept clear to readers. The rhyming verses make the story appealing to readers, and tutors and educators will find the book helpful to teach their students about Type 1 diabetes in an engaging way. It is a good book for adults too if they are dealing with children who have Type 1 diabetes." - Mamta Madhavan of Readers' Favorite (readersfavorite.com)