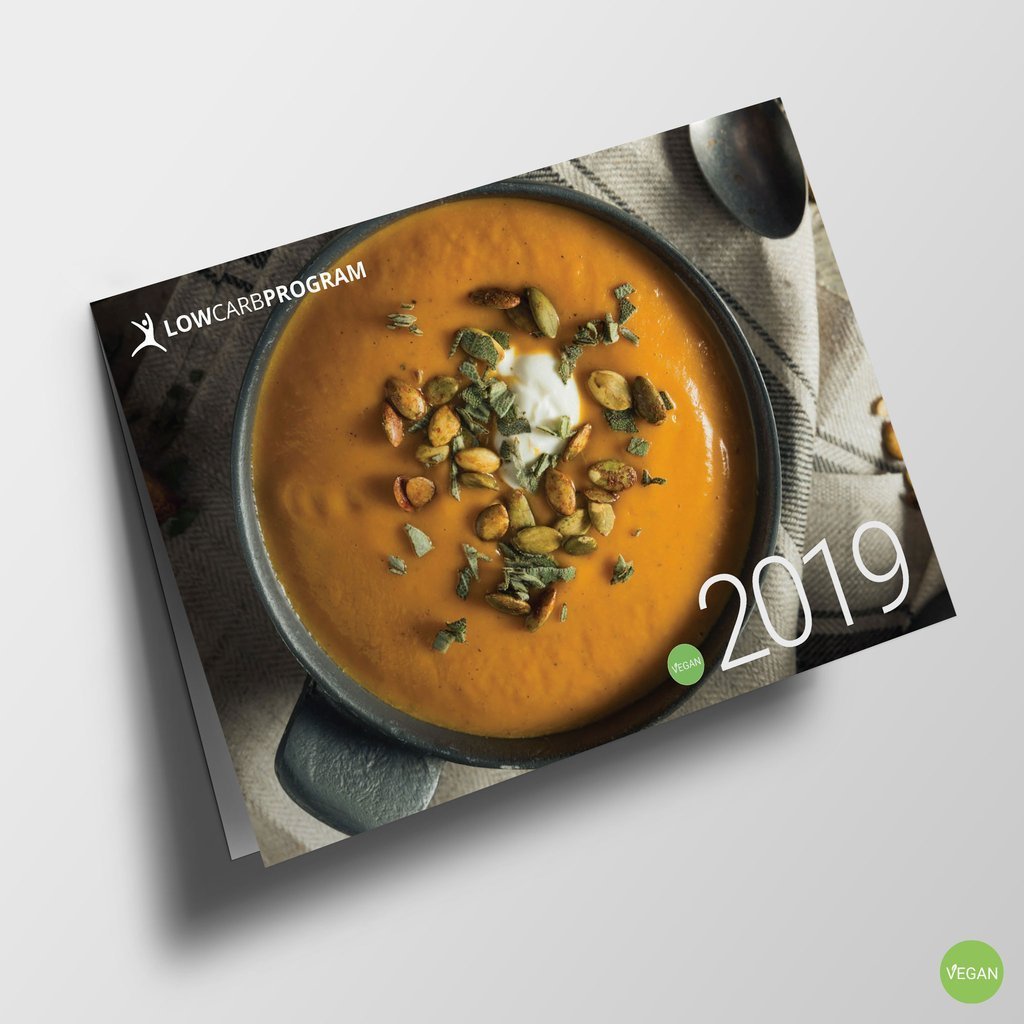 Save £5 on your lifetime membership activiation code for the Low Carb Program and get a Low Carb Calendar worth £9.99 absolutely free, that's a total saving of £14.99 off RRP!

All you have to do is use discount code LCP2019 at checkout, offer ends midnight December 31st 2018! Click here to find out more.

If you don't wish to join the award winning Low Carb Program, you can still get 10% off your Low Carb Calendar with discount code: 1WHEC. Click here to find out more.
What is the Low Carb Program?

The Low Carb Program is the award-winning, evidence-based education program and lifestyle companion developed with the feedback of 100,000 people with type 2 diabetes and prediabetes.

As featured in the Daily Mail, Sky News, The Times, BBC, ITV, The Telegraph, Men's Health and The Sunday Times.

To access the award-winning education, tracking and community support:

1. Simply scratch off the activation code from your activation card
2. Enter your code and personalize your program
3. Unlock and enjoy unlimited access!

Take control of your blood glucose with the Low Carb Program. Benefits of a low-carb diet include lower blood glucose levels, less dependence on medication and improved cholesterol levels.

Use the Low Carb Program app to learn how to low carb, browse thousands of recipes and meal plans, track your progress, stay up to date and find support in a community of over 350,000 people from 195 countries.

Let Louise walk you through a program of achievable, sustainable lifestyle changes that can improve your health. Over 1,800,000 kilograms of weight lost and counting!

LEARN LOW CARB: Learn the ins and outs of a low-carb lifestyle and how it helps manage diabetes and reduce risks of complications.

APPLY LOW CARB: Action Points at the end of lessons so you know exactly how to progress.

LOW CARB SUPPORT: Ask your low carb questions to a community of over 350,000 people.

MAKE LOW CARB A LIFESTYLE: Lifestyle keeps you up to date with the latest low carb news, interviews, recipes, meal plans, research and success stories. A constantly evolving, ever expanding, online magazine, Lifestyle is updated every day and offers you something new every time you check back.

IN YOUR OWN TIME: Thousands of people have placed type 2 diabetes into remission with the Low Carb Program. However, it's not enough on its own. Real change requires practice. It's up to you to apply what you learn in the program. It's all about small steps, in your own time.

AI LED: Everything you see and experience is personalised to you; right down to your food likes, food dislikes, allergies, other conditions, culture and budget. We're constantly learning from the footprints of over 350,000 members... we call it health intelligence.
1000s OF FOOD AND RECIPE IDEAS: Stay on track with step-by-step recipes, videos, shopping lists, challenges and food swap ideas.
You have the support of 350,000 people on their own low carb journey at your fingertips. People like Mark who lost 50kg, and Stella who lost 35kg. The low carb community share stories and ask questions; a network of 350,000 people, all pooling their knowledge and experience to help you get on the right track.
Robert Gibson

 Tina 
 Mark Chadbourne 
What about my free Low Carb Program calendar?
DESIGNED LOCALLY - Beautifully designed in Britain to help busy people get organised worldwide.
IDEAL TO KEEP BUSY HOMES ORGANISED - this big A4 family wall calendar opens out to show a month at a glance, ideal for any busy home.Runs from January '19 - December '19. Measures 43 x 61 cm when open
SPACES FOR EACH DAY – this unique layout provides space for each day to write lots of information. Keep appointments, activities, plans & things to remember in one convenient place
TAILORED TO YOU – do you eat meat, or are you vegan? Perhaps, even somewhere in between? Don't worry, pick from our meat, vegetarian or vegan calendars.
PERSONALISED RECIPES – each month has a unique recipe, complete with ingredients list, method, number of servings, preparation time, cook time, nutritional values and macronutrient ratios. View the calendars recipes on the back page.
DESIGNED TO WITHSTAND THE BUSIEST OF HOMES - The Home Planner is designed with reinforced hanging holes on every monthly page.
EXTRA LOW CARB FEATURES - each monthly includes a low carb tip and a low carb food.
SET YOUR GOAL – identifying your goals is important to establish how you will measure your success. Use the "Your Goals" page to help set you goal, stay on track and hold yourself accountable.
PLAN FOR 2020 – the last page includes a full 2020 calendar, helping you plan further ahead.
---